Being a Purina Certified Expert Dealer means that we offer a complete line of quality Purina feed products and have knowledgeable associates who care first about our customers, and their animals. Training is a key element for our Certified Expert staff and you can depend on us for Certified Expert advice!
Bulletin Board
NEW! Muddy Mutts Grooming services located inside Davis Feed!! Please call for details.
Expert Articles & Advice
December 1, 2013
The Holiday Season is right around the corner and its time to start thinking about how to brighten up your attire. The holidays are so different than any other time of the year and they require some special additions to your wardrobe.
December 1, 2013
At this time of year, most dogs and cats shed their summer coats in preparation for putting on their winter fur. Tangled, matted hair cannot provide insulation as nature intended. Daily or weekly brushing can help keep fur tangle-free and healthy.
Special Offers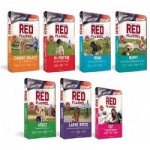 As a part of our customer loyalty program, we are offering buy 8, get 1 free on Red Flannel dog foods!
Quick Contact & Hours
Mon - Fri
8:30 am - 6:00 pm